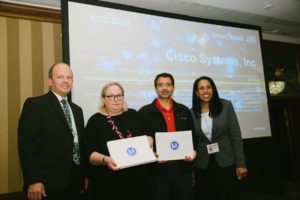 The deadline for product submissions has passed. CC product developers and certifiers will have the opportunity to be photographed receiving their CC certificates from the national schemes during an official presentation ceremony during ICCC 2023 which will be held Tuesday, October 31, 17:15-19:15 at the Marriott Metro Center in Washington DC. Please complete the form below to be included.
Invitation to Participate: Organizations may participate in the 2023 CC certificate presentation ceremony if they have received Common Criteria certification for a product any time after September 1, 2022, and prior to September 1, 2023, and are registered to participate at ICCC. Those who wish to participate should respond using the form below by October 3, 2023. Only recipients who confirm their participation and are present on site will be able to participate in the ceremony. A compiled list of recipients will be sent to each country's scheme 4 weeks prior to the event. Participants must be registered for ICCC. There is no charge for participation in the ceremony.
The Ceremony on Site: The ceremony will take place on stage at ICCC during the opening reception on Tuesday, October 31, 17:15-19:15. Each country's scheme will have the opportunity to present certificates. Presentation will be in alpha order, first by scheme country, then by company name. If the participant has more than one certified product, they will receive all certificates at one time during the ceremony. The participant's name will be announced, and they will come up to the stage to receive their certificate(s). A slide show with information about the organization, product(s) and certificate(s), will roll as a backdrop to the ceremony. A photographer will photograph each participant during the ceremony, and photographs will be made available to the participant. Due to time limits, thank-yous and other speeches will not be permitted.

The Following Products Are Included in the 2024 Certification Presentation Ceremony
| National Scheme | Organization | Product Name |
| --- | --- | --- |
| Canada | Cisco | Cisco Catalyst 9800 Series Wireless Controllers and Access Points 17.6 |
| Canada | Cisco | Cisco 900 Series Integrated Services Routers running IOS v15.9 |
| Canada | Cisco | Cisco Web Security Appliance with AsyncOS 11.8 |
| Canada | Cisco | Cisco Catalyst 9800 Series Wireless Controllers and Access Points 17.6 |
| Canada | Cisco | Cisco 900 Series Integrated Services Routers running IOS v15.9 |
| Canada | Lightship Security | Dell EMC Unity OE v5.2 |
| Canada | Oracle | Oracle Access Management 12c (572-LSS) |
| Canada | Oracle Corporation | Oracle Linux 8.4 |
| Canada | Oracle Corporation | Oracle Linux 7.6 UEK 5 KVM & Virtualization Manager 4.3 |
| France | Huawei Tech. France SASU | Baseboard Management Controller Protection Profile with Firmware update Module |
| France | NXP Semiconductors | ChipDoc v4 on JCOP 4.5 P71 in ICAO BAC configuration (Version 4.0.1.52); ChipDoc v4 on JCOP 4.5 P71 in ICAO EAC(1&2) with PACE configuration (Version 4.0.1.52); ChipDoc v4 on JCOP 4.5 P71 in SSCD configuration (Version 4.0.1.52) |
| France | THALES DIS | MultiApp V5.0 Java Card Virtual Machine – Certificate: ANSSI-CC-2022/37 |
| France | THALES DIS | Plateforme Java Card MultiApp V5.0.A – Certificate: ANSSI-CC-2022/52 |
| France | THALES DIS | BelPIC V1.8 on MultiApp V5.0 Platform – Certificate ANSSI-CC-2022/53 |
| France | THALES DIS | eTravel 2.5.A BAC, EAC on MultiApp V5.0.A – Certificates ANSSI-CC-2022/54, ANSSI-CC-2022/55, ANSSI-CC-2022/56 |
| France | THALES DIS | Digital Identity 1.0.A PACE, EAC on MultiApp V5.0.A(version 1.0.A) – Certificate ANSSI-CC-2022/57 |
| France | THALES DIS | eTravel Essential 1.2 BAC, EAC – Certificates ANSSI-CC-2022/60, ANSSI-CC-2022/61, ANSSI-CC-2022/62 |
| France | THALES DIS | 5G PK 5.2.2 Advanced SIM / Certificate: ANSSI-CC-2022/51 |
| France | THALES DIS | Platforme MultiApp V5.1 GP-SE (version 5.1) / ANSSI-CC-2023/33 |
| France | THALES DIS | Platform MultiApp v5.1 JCS / ANSSI-CC-2023131 |
| France | THALES DIS | Platform MultiApp V5.1 – JCS |
| France | Thales DIS France SA | IAS Classic v5.2.1 with MOC Server v3.1 on MultiApp V5.1 – Certificate ANSSI-CC-2023/42 |
| France | Thales DIS France SA | eTravel v3.1 BAC, EAC on MultiApp v5.1 – Certificate ANSSI-CC-2023/34, ANSSI-CC-2023/35, ANSSI-CC-2023/36 |
| Germany | atsec information security GmbH (evaluation lab representative) | PikeOS Separation Kernel, Version 5.1.3 for the NXP LS1023/LS1043A Processor |
| Germany | GT German Telamatics GmbH | Secure Electronic Health Card Terminal eHealth GT900 |
| Germany | NXP Semiconductors Germany GmbH | NXP Bangalore, NXP Leuven, NXP ATKH |
| Japan | Quality Assurance | FUJIFILM Apeos C7070 / C6570 / C5570 / C4570 / C3570 / C3070 models with Copy, Print, Fax, Scan and Overwrite Storage Controller ROM Ver. 21.2.2, Fax ROM Ver. 2.2.1 (JISEC-C0771) |
| Netherlands | Check Point Software Technologies | Check Point R81.10 for Gateway and Maestro Configurations |
| Netherlands | Cisco | Cisco Firepower Threat Defense (FTD) 6.4 with FMC and AnyConnect |
| Netherlands | Cisco | Cisco Network Convergence System 540, 5500 and 5700 (NCS540, NCS5500, NCS5700) Series running IOS-XR, version 7.4.1 |
| Netherlands | Huawei Tech. France SASU | Huawei NetEngine 8000&NE9000 Series Routers' Software V800R022C00SPC600 |
| Netherlands | Huawei Tech. France SASU | Huawei BaseBIOS 2.0 |
| Netherlands | Huawei Tech. France SASU | Huawei HongMeng Kernel V100R006C00SPC020B03 |
| Netherlands | NXP Semiconductors | NXP SE310 Series – Secure Element version SE310 SE A0.1.000 J2; NXP SN300 B2 Series – Secure Element version SN300 SE B2.1.001 ; NXP JCOP 8.x with eUICC extension on SN300 B2 Secure Element |
| Netherlands | NXP Semiconductors | NXP JCOP 7.0 on SN300 Secure Element, JCOP 7.0 R1.62.0.1 |
| Netherlands | Qualcomm | Snapdragon 8 Gen 2 Secure Processor Unit |
| Netherlands | THALES DIS | TESS v3.0 CSP on S3NSN4V / Certificate number CC-22-0530133 |
| Netherlands | THALES DIS | TESS v3.0 Platform / Certificate number CC-22-0530096 |
| Spain | FNMT – RCM | DNIe versión 4.0 |
| Spain | Huawei Tech. France SASU | Huawei DOPRA SSP V300R005C00SPC123B200 |
| Spain | Huawei Tech. France SASU | Huawei iSitePower V100R022C00SPC120 |
| Spain | HUAWEI TECHNOLOGIES CO.,LTD. | Huawei SUN2000HA Software V300R001C00SPC608 |
| Spain | HUAWEI TECHNOLOGIES CO.,LTD. | Huawei ATN Series Routers running VRP software, version V300R006C10SPC300 |
| Spain | HUAWEI TECHNOLOGIES CO.,LTD. | Huawei UDG V100R001C20SPC300 with Patch V100R001C20SPH333 |
| Spain | HUAWEI TECHNOLOGIES CO.,LTD. | Huawei iSitePower V100R022C00SPC120 |
| Spain | HUAWEI TECHNOLOGIES CO.,LTD. | Huawei DOPRA SSP V300R005C00SPC123B200 |
| Spain | Microsoft | SQL Server 2022 |
| Spain | Microsoft | collaborative Protection Profile (cPP) for Database Management Systems |
| Spain | Microsoft Corp. | Microsoft Windows 11, Windows Server 2022 |
| Spain | Microsoft Corporation | Microsoft Windows 11, Windows Server 2022, and other Windows OSes |
| Spain | Microsoft Corporation | Microsoft SQL Server 2022 Database Engine Enterprise Edition x64 (English) version 16.0.4025.1 |
| Spain | Microsoft Corporation | Microsoft Windows 11, Windows Server 2022, and other Windows OSes |
| Spain | Samsung Electronics Co., Ltd | Samsung SP of S3B512C revision 3 |
| Sweden | HP Inc. | Samsung Color MFP SL-X5230NR, Samsung Color MFP SL-X5280NR, Samsung Color MFP SL-X6350ZX, Samsung Color MFP SL-G306X, Samsung Color MFP SL-G256X, Samsung Color MFP SL-X6350LX, Samsung Color MFP SL-X6300LX, Samsung Color MFP SL-X6250LX, Samsung Color MFP SL-X9700LX, Samsung Color MFP SL-X9600LX, Samsung Color MFP SL-X9500LX, Samsung Color MFP SL-X9400LX, Samsung Color MFP SL-G509X, Samsung Color MFP SL-G409X, Samsung Mono MFP SL- K9700LX, Samsung Mono MFP SL-K9600LX, Samsung Mono MFP SL-K9500LX, Samsung Mono MFP SL-G609K, Samsung Mono MFP SL-G509K, Samsung Mono MFP SL-K5300NR, Samsung Mono MFP SL-K5250NR, Samsung Mono MFP SL-K6400ZX, Samsung Mono MFP SL-G356K, Samsung Mono MFP SL-G306K, Samsung Mono MFP SL-K6400LX, Samsung Mono MFP SL-K6350LX, and Samsung Mono MFP SL-K6300LX multifunction printers (MFPs) with 5.3.2 Firmware |
| Sweden | HP Inc. | HP Color LaserJet MFP E87740/E87750/E87760/E87770, HP Color LaserJet Flow E87740/ E87750/E87760/E87770, HP LaserJet MFP E82650/E82660/E82670, and HP LaserJet Flow E82650/E82660/ E82670 multifunction printers (MFPs) with HP FutureSmart 5.3.2 Firmware |
| Sweden | HP Inc. | HP Color LaserJet MFP E78625/E78630/E78635, HP Color LaserJet Flow E78625/E78630/E78635, HP LaserJet MFP E73130/E73135/E73140, and HP LaserJet Flow E73130/E73135/E73140 multifunction printers (MFPs) with HP FutureSmart 5.3.2 Firmware |
| Sweden | HP Inc. | HP Color LaserJet Managed MFP E78523/E78528 and HP LaserJet Managed MFP E73025/E73030 multifunction printers (MFPs) with HP FutureSmart 5.3.2 Firmware |
| United States | Arista Networks | Arista Networks 7280 Series Switches Running EOS 4.28 |
| United States | Cisco | Cisco Secure Client – AnyConnect 5.0 for Android 12 |
| United States | Cisco | Cisco Catalyst 9200/9200L Series Switches running IOS-XE 17.9 |
| United States | Cisco | Cisco Catalyst 9300/9300L/9400/9500/9600 Series Switches running IOS-XE 17.9 |
| United States | Cisco | Cisco NGIPSv 7.0 with FMC/FMCv 7.0 |
| United States | Cisco | Cisco Catalyst 8000V Edge (C8000V), Cisco 1000 Series Integrated Services Routers (ISR1000), Cisco Catalyst 1800 Rugged Series Routers (IR1800), Cisco Catalyst 8300 Rugged Series Routers (IR8300) |
| United States | Cisco | Cisco Catalyst 8200 and 8500 Series Edge Routers (Cat8200, Cat8500) |
| United States | Cisco | Cisco Secure Network Analytics (SNA) 7.4 |
| United States | Cisco | Cisco FTD (NGFW) 7.0 on ASA 5500 and ISA 3000 and FTDv with FMC/FMCv |
| United States | Cisco | Cisco FTD (NGFW) 7.0 on Firepower 4100 and 9300 Series with FMC/FMCv |
| United States | Cisco | Cisco FTD (NGFW) 7.0 on Firepower 1000 and 2100 Series with FMC/FMCv |
| United States | Cisco | Cisco Catalyst 9200/9200L Series Switches running IOS-XE 17.6 |
| United States | Cisco | Cisco Catalyst 9400/9600 Series Switches running IOS-XE 17.6 |
| United States | Cisco | Cisco Catalyst 9300/9300L/9500 Series Switches running IOS-XE 17.6 |
| United States | Cisco | Cisco Secure Network Analytics (SNA) 7.4 |
| United States | Cisco | Cisco FTD (NGFW) 7.0 on ASA 5500 and ISA 3000 and FTDv with FMC/FMCv |
| United States | Cisco | Cisco FTD (NGFW) 7.0 on Firepower 4100 and 9300 Series with FMC/FMCv |
| United States | Cisco | Cisco FTD (NGFW) 7.0 on Firepower 1000 and 2100 Series with FMC/FMCv |
| United States | Cisco | Cisco 8000 Series Routers running on IOS-XR 7.3 |
| United States | Cisco | Cisco Jabber 14.0 for Windows 10 |
| United States | DataSoft Corp. | DataSoft Secure Tactical VPN Client for Android |
| United States | DataSoft Corp. | DataSoft RAP-117 |
| United States | Google, LLC | Google Pixel Devices on Android 13 |
| United States | Palo Alto Networks | Palo Alto Networks XSOAR |
| United States | Samsung Research America | Samsung Electronics Co., Ltd. Samsung Knox File Encryption 1.5 – Spring |
| United States | Samsung Research America | Samsung Electronics Co., Ltd. Samsung Galaxy Devices on Android 13- Spring |
| United States | VMware End User Computing (EUC) | VMware Horizon Client (VID 11357) |
| United States | VMware End User Computing (EUC) | VMware Horizon Agent (VID 11358) |
| United States | VMware End User Computing (EUC) | VMware Horizon Connection Server (VID 11359) |
| United States | VMware End User Computing (EUC) | VMware Unified Access Gateway (VID 11360) |
| United States | VMware End User Computing (EUC) | Mware Workspace ONE Unified Endpoint Management (VID 11326) |